February 24, 2024!!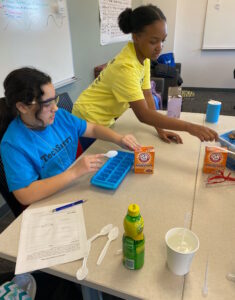 REGISTRATION for fifth- through eighth-grade girls interested in attending the 2024 Tech Savvy begins January 1 through our eventbrite site.
Watch here for updates!
Coordinator techsavvystc@gmail.com
THE EVENT: Bring a friend or friends and join us on St. Cloud State University's campus for this one day event! Attendees can choose from a wide variety of fun, engaging, interactive workshops that help you explore and learn about the STEM field, and if it might be a perfect fit for your future!
ATTEND: Cost is $10 (includes materials, lunch, swag, and raffle tickets for sponsored prizes).
Sign up early, as space is limited!
OUR COORDINATORS: The Saint Cloud Area Branch offers the only AAUW TechSavvy event in Minnesota. St. Cloud State University and the College of Saint Benedict collaborate with the branch to facilitate interactive and imaginative workshops created by professionals that introduce the girls to careers in science, technology, engineering, and mathematics (STEM).
OUR VOLUNTEERS: SCSU and CSB students majoring in STEM areas volunteer to guide and assist the school girls.
♦   ♦   ♦   ♦
A day of fun and learning
The program, organized and sponsored by the American Association of University Women, is the only AAUW Tech Savvy event in Minnesota.