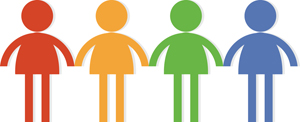 Membership in AAUW offers exceptional tangible and intangible benefits — a strong voice, a vibrant community, relevant information, and valuable resources.
Strong Voice
AAUW's 100,000-member voice makes a difference on critical women's and civil rights issues — briefing policy-makers, spearheading coalitions, and impacting the world through international initiatives and partnerships. Check out all the opportunities for individual action through activities such as the AAUW Capitol Hill Lobby Corps and Two-Minute Activist. AAUW provides you the opportunity to support and be the first to learn about ground-breaking research on women, girls, and education.
Vibrant Community
Wherever you go, you will find a community of friends and professional contacts in AAUW — a powerful local and national network for personal and professional growth. Locate AAUW colleagues from around the world through our Member Services Database and give back to your local community through projects to benefit women and girls as a branch member. Stay on the pulse of all issues and activities through AAUW's growing social media network by joining the AAUW Facebook page and group, and following us on Twitter, YouTube, and the AAUW Dialog blog.
Relevant Information
AAUW is a trusted source of timely and important information. Our award-winning magazine AAUW Outlook highlights issues and individuals affecting women and girls today. Action Network briefs alert you to congressional actions on issues that can change your life. State and branch groups publish newsletters about local activities and interests, and the AAUW Mission & Action e-newsletter regularly updates members about the work of AAUW and provides information on today's hot issues and opportunities for activism.
Valuable Resources
AAUW provides many educational and professional development experiences for you to improve your personal and leadership skills as well as opportunities for educational advancement through fellowships, grants, and awards. There are special resources for members facing employment challenges and exclusive member discounts on numerous things from subscriptions to insurance.
AAUW membership is an incredible value: Representation. Community. Savings. Information. Education. Inspiration. You can find it all as part of AAUW.
For Students
AAUW offers leadership programs and resources that help augment what students learn at college, on and off the campus. Our college/university (C/U) partner members create opportunities for their students to break through barriers — both on campus and in their future jobs and communities. Learn more.
---
Saint Cloud Area (MN) Branch of AAUW Membership Application
National dues $62.00
State dues $9.00
Branch dues $27.00
Total dues: $98.00

AAUW is a 501(c)(3) charitable membership organization, therefore, $56 of your national dues are tax deductible on your personal federal income tax return. Three dollars  of the national dues is not tax deductible because it supports the  Action Fund's Section 501(c)(4)  (Lobby Corps and election-related activities).
To join the Saint Cloud Area Branch, please download and complete the membership form and send it to:
AAUW Saint Cloud Area Branch
P.O. Box 7694
St. Cloud, Minnesota 56302
We look forward to welcoming you as a new member!